21st - 23rd October 2023
This certificated three-day courses is led by members of the College of Trainers of Godly Play UK. Over 3 days (minimum 25 hours training) this training develops your ability to use the Godly Play method and understand its principles. The training follows an action/reflection model of learning – learning through hands-on experience and reflection, rather than lectures.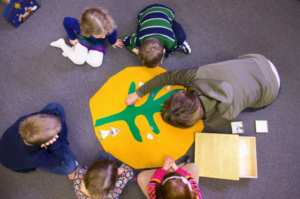 There is a mixture of trainer-led sessions, and opportunities for coached participant storytelling presentations. We work in a model Godly Play environment, with the opportunity to use and see a comprehensive set of resources. Each day focuses on a different kind of Godly Play (sacred stories, parables and liturgical action/church practice) so you will learn how different genres of Christian language can support spiritual exploration. Workshops in the core module also cover:
Setting up a Godly Play environment
The Spirituality of Childhood
Your particular concerns and questions.
Places can be booked on the Godly Play website here.